Italian Meatball Soup
Inspired by Sara Welch from Dinner at the Zoo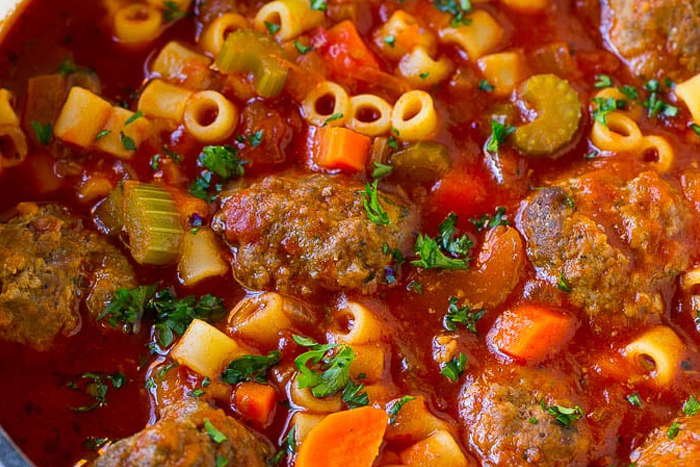 Ingredients
For the soup
2 teaspoons olive oil
1/2 cup onion finely diced
2 stalks celery sliced
2 carrots peeled and diced
15 ounce can crushed tomatoes do not drain
16 ounce can tomato sauce
6 cups beef broth
1 teaspoon dried Italian seasoning
Salt and pepper to taste
3/4 cup dry short pasta such as ditalini
2 tablespoons fresh parsley chopped
Parmesan cheese for serving optional
Instructions
1. Preheat the broiler.
2. Place meatballs on a sheet pan lined with cooking spray. Coat the tops of the meatballs with cooking spray.
3. Broil for 8-10 minutes until meatballs are lightly browned.
4. While the meatballs are cooking, heat the olive oil in a large pot over medium heat. Add the onion, celery and carrots.
5. Cook the vegetables for 4-5 minutes. Add the crushed tomatoes, tomato sauce, beef broth, Italian seasoning, salt and pepper.
6. Bring to a simmer. Add the meatballs and pasta to the soup. Simmer for 10 minutes, or until pasta and vegetables are tender.
7. Top with parsley. Serve with parmesan cheese if desired.