One Pan Honey Garlic Sausage + Veggies
One Pan Honey Garlic Sausage + Veggies
One Pan Honey Garlic Sausage + Veggies
Inspired by Rachel Maser from CleanFoodCrush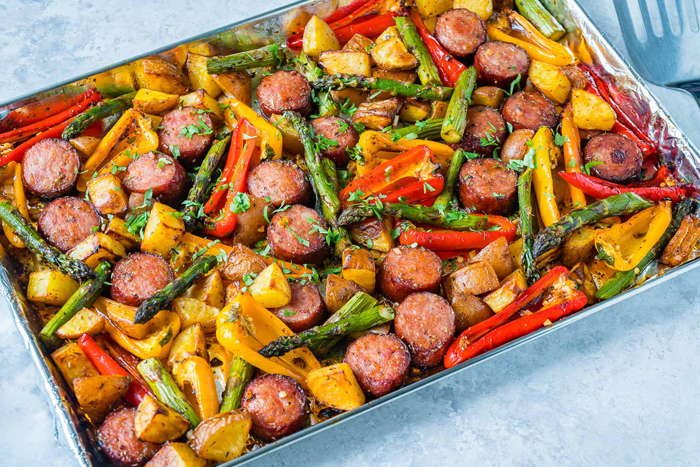 YIELD
Makes about 4 servings
Ingredients
15 ounces LM Meat honey garlic sausage
3 cups red potato, or sweet potatoes, diced
8 oz fresh asparagus, cut into 2 inch pieces
12 mini sweet bell peppers, cut into halves
Sea salt and pepper, to your taste
1 tsp dried oregano
1 tsp smoked paprika
2 Tbsp avocado oil, or olive oil
4 fresh garlic cloves, minced or pressed
2 Tbsps raw honey
A small bunch of chopped fresh parsley, to garnish
Instructions
1. Preheat the oven to 400 degrees f.
2. Line a large sheet pan with aluminium foil or parchment paper.
3. Place all the veggies and sausage in a large bowl.
4. Pour in the oil, honey, add in garlic and seasonings.
5. Toss to evenly coat everything.
6. Arrange the veggies and sausage in a single layer on the sheet pan.
7. Bake for about 20 minutes, or until vegetables are crisp tender and sausage is browned.
8. Garnish with fresh chopped parsley and enjoy!