Pan-Fried Pork Chops with Garlic Butter
Pan-Fried Pork Chops with Garlic Butter
Pan-Fried Pork Chops with Garlic Butter
Inspired by Jessica Gavin Culinary Scientist
Easy pan-fried pork chops prepared on the stovetop with delicious results and topped with homemade garlic butter for maximum flavor.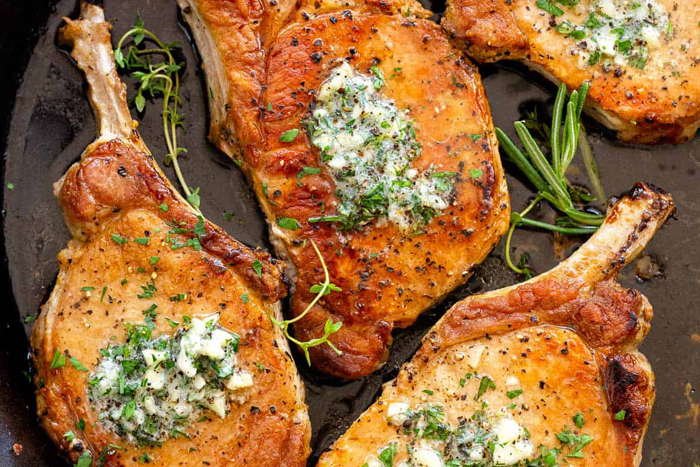 Ingredients
4 LM Meat Frenched pork loin chops, 1-inch thick
4 tablespoons (60 g) unsalted butter softened
1 tablespoon (10 g) minced garlic
1 teaspoon minced parsley
1 teaspoon chopped rosemary
1 teaspoon chopped thyme
½ teaspoon (3 g) kosher salt plus more for seasoning
½ teaspoon black pepperplus more for seasoning
2 tablespoons olive oil
Special Equipment
Cast Iron Skillet
Instant-Read Thermometer
Instructions
In a small bowl combine softened butter, garlic, parsley, rosemary, thyme, salt, and pepper.
Season both sides of the pork chops with salt and pepper.
Heat a large cast-iron skillet over medium-high heat.
Add 2 tablespoons of olive oil to a pan, once hot add the pork chops.
Lightly press the pork chops down into the pan to get a nice sear, cook 1 minute.
Flip and sear the other side, 1 minute.
Cook the sides to render the fat, 1 minute.
Turn heat down to medium, cook until the internal temperature reaches 140ºF (60ºC), 4 to 6 minutes depending on the thickness, flip every minute for even cooking.
Transfer to a cutting board, rest for 5 to 10 minutes before slicing or serving whole.
Serve the pork chops topped with garlic butter.