Pork Souvlaki with Greek Salad & Rice
Pork Souvlaki with Greek Salad & Rice
Pork Souvlaki with Greek Salad & Rice
Inspired by Sara Buenfeld from BBC Good Food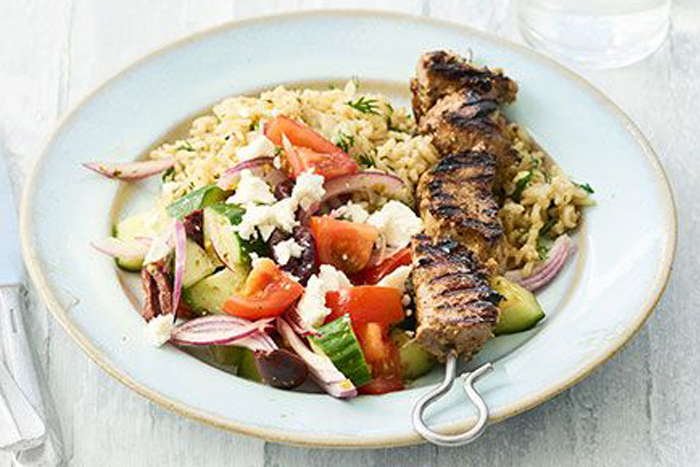 Ingredients
1 onion, finely chopped
85g brown basmati rice
½ tsp dried mint
1 tsp vegetable bouillon powder
2 tbsp chopped fresh dill
3 tomatoes, chopped
10cm chunk of cucumber, chopped
1 red onion, halved and thinly sliced
4 Kalamata olives, halved
1 tsp red wine vinegar
25g feta, crumbled
Method
Step 1
Heat 1 tsp olive oil in a non-stick pan. Add the chopped onion, cover and cook for 5 mins, then remove the lid and stir in the rice, dried mint and bouillon. Pour in 300ml boiling water. Cover and cook for 30-35 mins until the liquid has been absorbed and the rice is tender. Stir in the dill and a squeeze of lemon juice.
Step 2
Meanwhile, heat the grill to high or light your barbecue. Mix the tomatoes, cucumber, red onion and olives in a bowl with the remaining oregano, vinegar, remaining oil and a squeeze of lemon. Pile onto plates and top with the feta.
Step 3
Grill the souvlaki for about 4 mins each side until they are cooked, but still juicy. Serve with the salad and rice.