Pork Souvlaki with Halloumi Pepper Skewers
Pork Souvlaki with Halloumi Pepper Skewers
Pork Souvlaki with Halloumi Pepper Skewers
Inspired from Dairy Farmers of Canada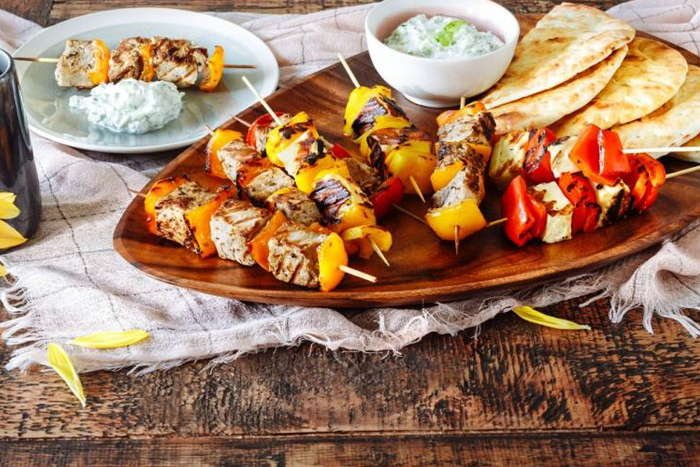 Ingredients
Pork
Tzatziki
1/2 cup (125 mL) coarsely grated unpeeled English cucumber
1/2 cup (125 mL) plain yogurt preferably Greek-style or Balkan-style
2 tsp (10 mL) lemon juice
1 clove garlic minced
1/4 tsp (1 mL) salt
2 tbsp (30 mL) finely chopped fresh mint (optional)
Halloumi & Red Pepper Skewers
2 slices Canadian Halloumi each 1/2 inch (1 cm) thick
1 red pepper cored, seeded and cut into bite-size pieces
4 medium skewers
Preparation
Tzatziki
Using your hands, squeeze grated cucumber to remove all cucumber liquid. Place cucumber in a bowl with yogurt, lemon juice, garlic, salt and mint. Stir. Refrigerate until ready to use.
Halloumi & Red Pepper Skewers
Just before grilling, prepare skewers by cutting Halloumi slices into bite-size pieces (you will need 8 pieces). Randomly thread Halloumi onto 4 skewers with red pepper pieces.
Grease grill and preheat barbecue to medium-high. Barbecue pork for 10 min, turning occasionally and brushing with marinade until cooked through. Place Halloumi skewers on barbecue for the last 3 min of grilling pork. Turn occasionally until peppers and Halloumi are grilled. Serve drizzled with tzatziki or serve tzatziki on the side.