Sauteed German Sausages with Bacon and Apple Sauerkraut
Sauteed German Sausages with Bacon and Apple Sauerkraut
Sauteed German Sausages with Bacon and Apple Sauerkraut
Inspired by Stanley Lobel from Food & Wine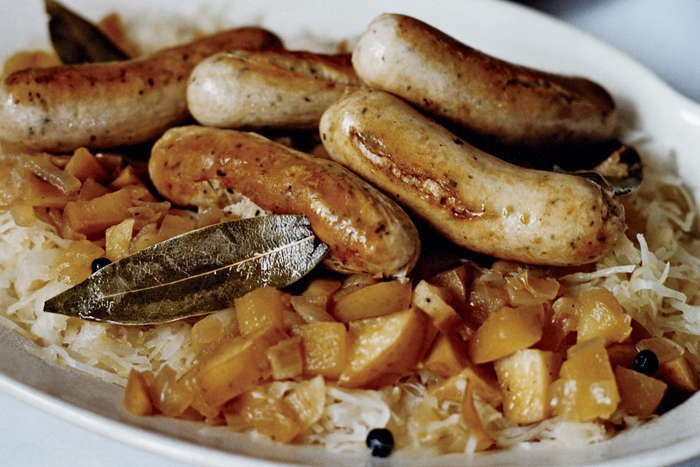 Ingredients
1/4 cup vegetable oil
5 ounces thick-cut bacon, cut into 1/2-inch pieces
1 very large onion, coarsely chopped
2 tablespoons off-dry white wine, such as Riesling
1 large sweet apple, such as Gala or Fuji—peeled, cored and cut into 1/2-inch pieces
12 juniper berries
4 bay leaves
1/2 teaspoon sugar
Kosher salt and freshly ground pepper
1 cup water
2 1/2 pounds sauerkraut—drained, rinsed and squeezed dry (4 packed cups)
Grainy mustard, for serving
Directions
Step 1
In a large, enameled cast-iron casserole, heat 2 tablespoons of the oil until shimmering. Add the bacon and cook over moderately high heat until the fat is rendered and the bacon is crisp, about 5 minutes. Using a slotted spoon, transfer the bacon to a paper towel–lined plate.
Step 2
Add the onion to the casserole, cover partially and cook over moderately low heat, stirring occasionally, until very soft, about 20 minutes. Increase the heat to moderately high. Add the wine, apple, juniper berries, bay leaves, sugar, 1 teaspoon of kosher salt and 1/2 teaspoon of pepper and boil for 3 minutes. Add the water and the sauerkraut. Reduce the heat to low, cover and cook until the apple is very tender, about 45 minutes.
Step 3
In a large skillet, heat the remaining 2 tablespoons of oil until shimmering. Poke the sausages several times with a fork and cook them over moderate heat, turning several times, until golden and heated through, about 8 minutes.
Step 4
Spoon the sauerkraut onto a platter and arrange the sausages on top. Sprinkle the reserved bacon over the sausages and serve with mustard.