Crock Pot Turkey Bolognese Sauce with Zucchini Noodles
Crock Pot Turkey Bolognese Sauce with Zucchini Noodles
Crock Pot Turkey Bolognese Sauce with Zucchini Noodles
Inspired by Lisa Wells from Cook Eat Paleo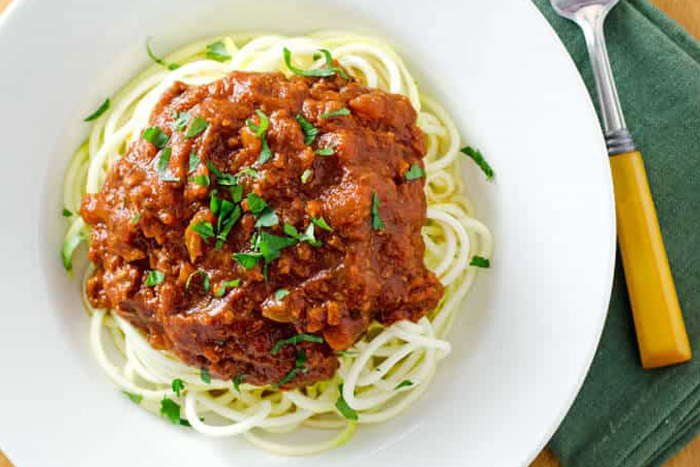 Ingredients
FOR SAUCE
1 Pound LM Meat ground turkey
1 28- ounce can organic tomato puree
1 6- ounce can organic tomato paste
1/2 cup chicken stock
1 tablespoon olive oil
2 teaspoons Italian herb blend
1 teaspoon sea salt
1/2 teaspoon pepper
1/8 teaspoon crushed red pepper flakes
3 cloves garlic minced
2 small carrots diced
1 small onion diced
Instructions
To make sauce
1
Add all sauce ingredients except turkey to slow cooker and stir to combine.
2
Cut ground turkey into cubes, add to slow cooker, and cover with sauce. Do not stir.
3
Cook on low for 6-8 hours.
4
Once the sauce is done, use a potato masher to break up the ground turkey into small chunks.
To make zucchini noodles
1
Spiralize zucchini (1/2 – 1 medium zucchini per serving).
2
Heat one tablespoon olive oil in large frying pan over medium heat. Cook zucchini until warmed through but still firm, about 3 minutes.