Classic Breaded Ungraded Beef (also known as Veal) Cutlets
Classic Breaded Ungraded Beef (also known as Veal) Cutlets
Classic Breaded Ungraded Beef (also known as Veal) Cutlets
Inspired by Molly Watson from the Spruce Eats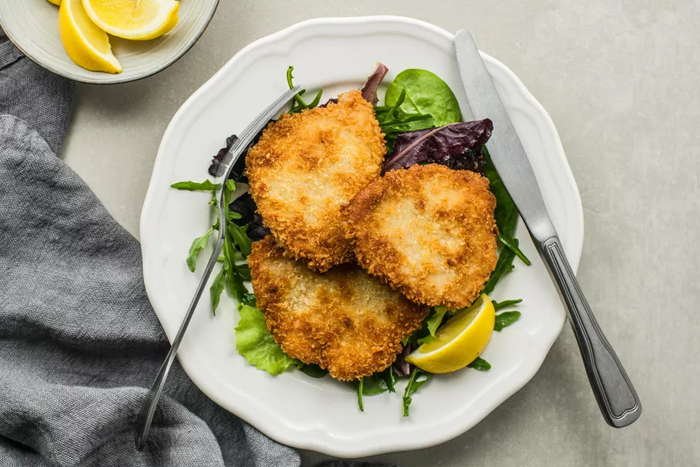 Ingredients
1/2 cup all-purpose flour
1/2 teaspoon fine sea salt
2 large eggs
1 tablespoon water
2 cups breadcrumbs or panko
Vegetable or canola oil for frying (enough for a shallow layer)
Lemon wedges, garnish
Steps to Make It
1. Gather the ingredients.
2. Pat dry the cutlets and set them aside.
3. On a plate, combine the flour and salt.
4. In a shallow bowl, whisk the eggs thoroughly with the water.
5. Put the breadcrumbs or panko on another plate.
6. Line the plates and bowl in order from left to right: flour, egg, breadcrumbs (right to left if you're left-handed). Set a platter or baking tray at the end of the line, after the breadcrumbs.
7. Dredge the cutlet on both sides in the flour to coat it thoroughly; shake off any excess.
8. Dip it in the egg so it is completely covered and lift it out so the excess egg can drip off.
9. Lay the cutlet in the breadcrumbs, covering it on both sides, gently pressing the crumbs onto the surface of the cutlet.
10. Set the cutlet on a baking sheet or platter and repeat with the remaining cutlets, placing in one layer without touching.
11. Heat a shallow layer of oil in a wide, high-sided frying pan or similar vessel over high heat. Add as many cutlets as fit in a single layer.
12. Fry the cutlets until they're golden brown on the first side for 4 to 5 minutes.
13. Turn them over and cook them until they're golden brown on the other side and cooked through. Cooking time should be 8 to 10 minutes total. Do not overcook.
14. Repeat with any remaining cutlets, if necessary.
15. Transfer to a paper-towel-lined plate or platter.
16. Serve with lemon wedges and enjoy.