Ungraded Beef (also known as Veal) Liver with Chanterelle Cream Sauce and Garlic Mustard
Ungraded Beef (also known as Veal) Liver with Chanterelle Cream Sauce and Garlic Mustard
Ungraded Beef (also known as Veal) Liver with Chanterelle Cream Sauce and Garlic Mustard
Inspired by Chef Alan Bergo from Forager Chef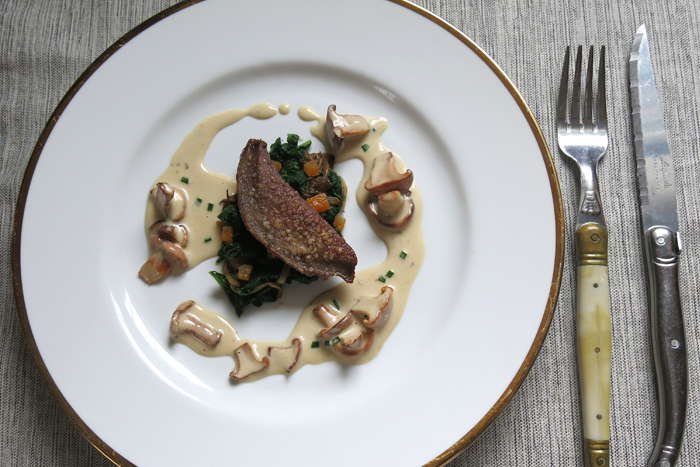 COURSE
Appetizer, Main Course
Ingredients
8 ounces LM Meat ungraded beef (also known as veal) liver cut into four equal slices (you can definitely sub beef liver here)
AP flour for dredging
4 decent handfuls garlic mustard blanched in lightly salted boiling water and cooled in ice water to retain it's green color, to yield about 1/4 cup per person
1/4 cup cooked caramelized white onions (1 cup thinly sliced white onion after cooked should give you this)
8 dried apricots diced
1 teaspoon sliced fresh chives
Oil for sauteing like grapeseed canola, or animal fat
Instructions
1. Heat a saute pan until lightly smoking then add the onions and stir occasionally on medium-high heat until the bottom of the pan is lightly browned. Deglaze the pan with a tbsp of water and stir to help color the onions, repeat this process until the onions are cooked and deep brown in color, about 10 minutes.
2. Heat the caramelized onions, apricots, and blanched greens together in a pan, adding a table spoon or two of water to make sure the greens don't dry out too much and burn. Season the greens mixture with salt and pepper to taste, and reserve.
3. Heat a couple tablespoons of oil in a large saute pan. Season the liver slices lightly on both sides with salt and pepper, then dredge lightly in flour, tapping off any excess, and adding to the hot pan. Cook the liver slices until golden brown on one side, then turn them over and cook gently for a second to "kiss" the other side of the liver. Cook the liver to medium doneness, remove from the pan and allow to rest on a paper towel while you reheat the greens.
4. Just before plating, stir the chives into the chanterelle sauce.
5. To plate, put some greens in a pile on each plate, topping with a slice of liver, spoon the sweet chanterelle sauce around and serve immediately.