Ungraded Beef (also known as Veal) Striploin with Diane Sauce & Watercress Salad
Ungraded Beef (also known as Veal) Striploin with Diane Sauce & Watercress Salad
Ungraded Beef (also known as Veal) Striploin with Diane Sauce & Watercress Salad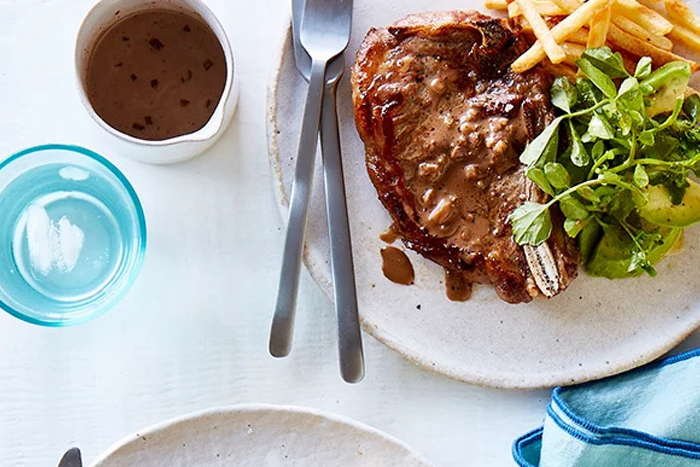 Ingredients
4 x 250g (approx.) LM Meat ungraded beef (also known as veal) striploin chops
2 garlic cloves, crushed
2 eschallots, finely chopped
1 1/2 tbsp Worcestershire sauce
1 1/2 tbsp brandy
1 tbsp tomato sauce
1/2 cup (125ml) thickened cream
Watercress and avocado salad, shoestring oven fries, to serve
Method
1. Spray a large non-stick frying pan with oil and heat over medium-high heat. Cook ungraded beef (also known as veal) for 3-4 minutes each side or until cooked to your liking. Set aside on a plate loosely covered with foil for 5 minutes.
2. Meanwhile, heat the same frypan over medium heat. Cook garlic and eschallots for 2-3 minutes or until softened. Add Worcestershire sauce, brandy and tomato sauce, stir and bring to the boil. Reduce heat to a simmer, add cream and cook for 1-2 minutes, stirring constantly, until sauce thickens. Season.
3. Serve ungraded beef (also known as veal) with diane sauce, salad and fries.