Veal Chop Milanese, Watercress, Citrus Vinaigrette
Veal Chop Milanese, Watercress, Citrus Vinaigrette
Veal Chop Milanese, Watercress, Citrus Vinaigrette
Inspired by Lynn Crawford from Food Network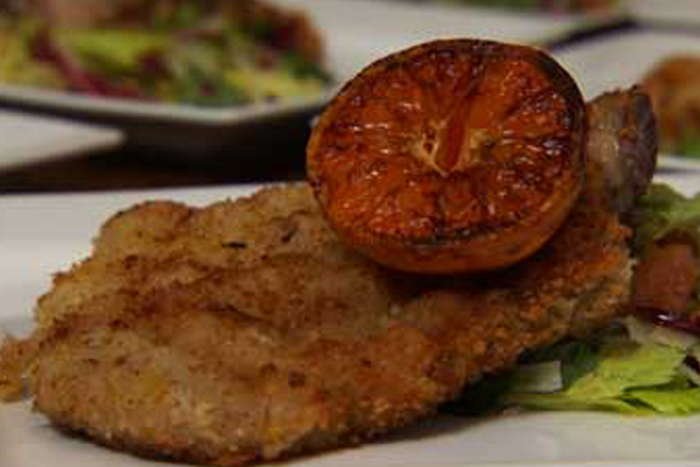 Ingredients
Veal Chop Milanese
4 10 oz bone in LM Meat veal chop, pounded to ¼ inch thickness
4 large eggs, beaten
1 cup all purpose flour
Bread crumbs (1-2 cups)
½ cup olive oil
1 cup orange juice
2 Tbsp Dijon mustard
2 shallots, thinly sliced
Salt and freshly ground black pepper
Watercress
1 bunch watercress, cleaned
1 heads Frisse, cleaned
1 fennel, thinly shaved
3 oranges, peeled, segmented
Citrus Vinaigrette
¾ cup olive oil
2 shallots, finely diced
3 Tbsp orange juice
2 Tbsp lemon juice
1 tsp Djion mustard
Salt and freshly ground black pepper
Preparation
Veal Chop Milanese
1. In a large bowl, mix the oil, orange juice, mustard and shallot until combined. Place the veal chops in the marinade and refrigerate for 20 minutes.
2. Take veal out of the marinate and lightly pat dry. Place the flour, eggs and seasoned breadcrumbs into 3 separate shallow bowls. Remove a veal chop from the marinade, allowing excess liquid to drip off. Dredge the veal chop in the flour, shaking off excess. Then dip into the egg mixture and then cover with breadcrumbs. Repeat this with remaining chops.
3. Heat the remaining oil in a sauté pan over medium heat. When the oil is hot, fry the veal until golden brown about 3 minutes on each side. Remove from pan onto paper towel to absorb any excess oil.
Watercress
1. In a medium mixing bowl place the watercress, frisée, fennel and orange segments, pour citrus vinaigrette and toss well. Divide the salad among the four plates and place a veal chop onto of the salad.
Citrus Vinaigrette
1. In a small mixing bowl, add the shallots, orange juice, lemon juice and mustard mix together. Whisk in olive oil in a steady stream. Season with salt and pepper.