Veal Chops with Roaster Plums
Inspired by gusto world wide media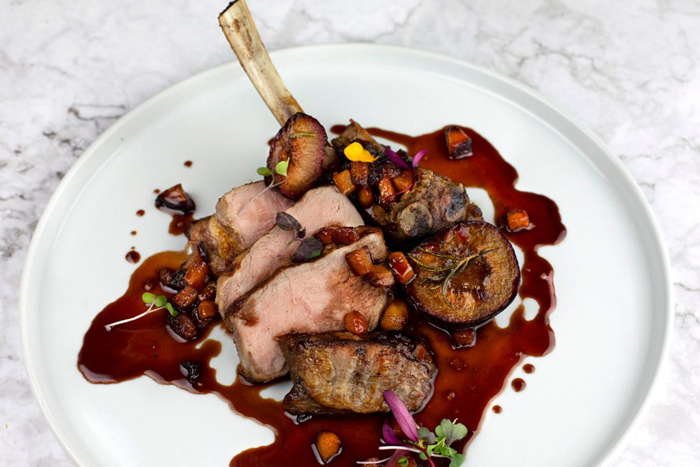 Ingredients
For the roasted plums
6 plums, halved and pitted
2 tablespoons (30 ml) olive oil
2 tablespoons (30 ml) balsamic vinegar
2 tablespoons (30 ml) sugar
1 sprig of rosemary leaves, stripped
Salt and pepper
For the port plum pan sauce
1 teaspoon (5 ml) olive oil
1 small shallot, sliced
2 cups (470 ml) port
2 ounces (60 ml) veal glace
6 roasted plum halves, chopped
2 tablespoons (30 ml) butter, chilled, diced
Method
For the roasted plums
Preheat oven to 375 F (190 C).
In a large bowl, toss together plums, oil, balsamic vinegar, sugar, rosemary leaves, salt, and pepper.
Spread out the dressed plums, flesh side up, on a rack over a baking sheet.
To prevent burning the juice from the plums, add water to the baking sheet beneath the rack.
Roast for 20 minutes or until the skins start to split.
For the veal chops
Remove veal chops from the fridge one hour before grilling.
In a bowl, coat the veal chops lightly with oil, season with salt and pepper.
Heat the grill to medium high heat, 375 F (190 C).
Grill the veal chops to desired internal temperature and remove to rest.
For the port plum pan sauce
Heat the olive oil in a skillet over medium-high heat, add the shallots and sauté until soft.
Add port and veal stock, reduce to ½ cup (120 ml).
Add plums and toss to warm.
Remove from heat and incorporate butter.
To serve
Slice the rested veal chop and transfer to a serving dish. Serve hot with the port-plum pan sauce, featuring the plums on top.