Veal Scallopini with Sun Dried Tomato Sauce
Veal Scallopini with Sun Dried Tomato Sauce
Veal Scallopini with Sun Dried Tomato Sauce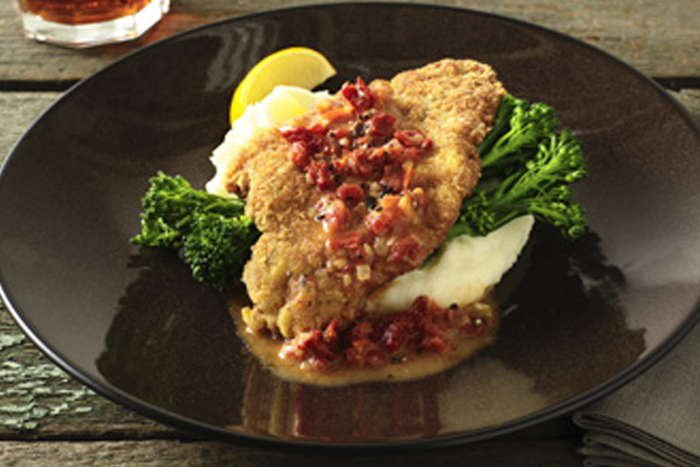 Ingredients
1 pound thinly sliced LM Meat veal cutlets (scallopini; 3/4 inch thick)
2 tablespoons olive oil
1/2 stick (4 tablespoons) unsalted butter, cut into tablespoon pieces
1/2 cup all-purpose flour
1/3 cup dry white wine
1/3 cup reduced-sodium chicken broth
1/2 cup drained oil-packed julienned sun-dried tomatoes
1/3 cup drained pitted brine-cured black olives, coarsely chopped
Accompaniment: boiled potatoes; lemon wedges
Garnish: chopped fresh flat-leaf parsley
Preparation
1. Put oven rack in middle position and preheat oven to 200°F.
2. Heat oil and 2 tablespoons butter in a 12-inch heavy skillet over high heat until foam from butter subsides.
3. Meanwhile, spread flour on half of a shallow baking pan. Working with 2 or 3 slices at a time, transfer veal to flour in 1 layer. Lightly season top side of veal with salt and pepper, then turn over to coat completely with flour. Shake off excess flour and stack slices on other half of pan. Sauté veal in batches without crowding, turning over once, until browned and just cooked through, about 1 1/2 minutes per batch. Transfer to a platter as browned, adding new cutlets to skillet as space becomes available, and keep warm in oven.
4. When all of veal is cooked, bring wine, broth, tomatoes, and olives to a boil in uncleaned skillet, stirring and scraping up any brown bits, then add remaining 2 tablespoons butter and swirl skillet until butter is incorporated. Remove from heat and season with salt and pepper. Pour sauce over veal.